The stormwater software you wish you had on your last project
Start your next detention pond design with Hydrology Studio and you'll see why it's the hydrology software of choice for producing drainage studies. Its companion, Stormwater Studio, allows you to design and model storm sewer systems… easily! Both products are stand-alone and feature all-in-one user interfaces, eliminating the maze of open windows, dialog boxes and continuous help screens. Hydrology Studio and Stormwater Studio were developed specifically for the practicing civil engineer engaged in urban watershed modeling, detention pond design and storm sewer design.
The problem with existing drainage software
The stormwater software you're using today is probably decades-old, legacy software that has been the victim of acquisitions, years of add-ons, add-ons and more add-ons, resulting in bloated, unfocused, hard-to-use software. Patchwork and recurring fees became the norm. We agree, hydraulics & hydrology is not exactly easy but H&H software SHOULD be and CAN be. And let's face it, no one likes being locked into something they don't want anymore.
Our solution
Developing new stormwater design software using the latest programming technologies. We built them from the ground-up with these basic goals: It must be easy-to-use; stand-alone, requiring no other software; and fairly priced. Period.
Better hydraulics & hydrology software
Hydrology Studio's software is intuitive. You'll pick them up in minutes, not hours, days or weeks. We don't sell you training because you don't need it. It installs on your PC with just one mouse click; runs on off-the-shelf PCs, and is compatible with Windows XP, Vista, 7 & 8.
The best part is that they're only $495 each. Save $100 when purchasing the Hydrology Studio Suite!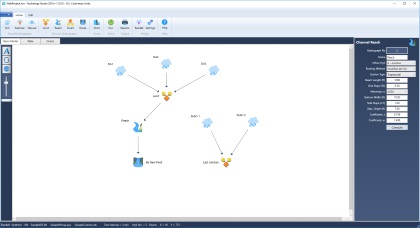 Detention Pond Design software that doesn't get in your way
Hydrology Studio uses a customizable, on-screen routing diagram that lets you point and click your way through complex watersheds. Create runoff hydrographs, combine, route, divert hydrographs and design detention ponds. Within minutes your printer is rolling out professional, agency-accepted reports with colorful graphs that are guaranteed to impress anyone who sees them.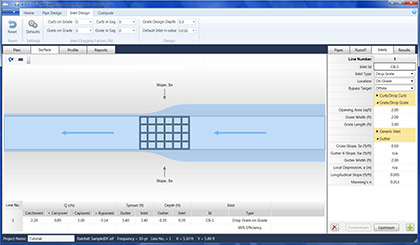 Storm Sewer Design software that leads the way
You're in good hands with Stormwater Studio at your fingertips. Using HEC-22  methodologies, it provides you with automated design & analysis capabilities; true energy-based HGL/EGL calculations; graphic rich surface and profile plots; flexibility; speed and a feeling of confidence knowing you're using an agency-friendly program. All at a price that makes Stormwater Studio as easy to buy as it is to use.
Have questions? Please give us a call at
864-509-1073