We build stormwater design software that is beautifully simple
Practicing civil engineers prefer their mission-critical engineering applications to be "stand-alone" and "simple to use". Period.
Hydraulics & hydrology is critical engineering. And in the heat of the battle, you need to work fast, efficiently and stress-free. Being able to reach out to a helping hand when needed can be priceless.
Existing solutions prevent this as they are either too complicated, can't do what's needed, or are bloated with features you don't need. Not to mention being ridiculously overpriced.
We consciously decided not to look at what everyone else was doing and instead build drainage design software that would make our customer's lives a lot easier. And that's not easy. But that's what we do.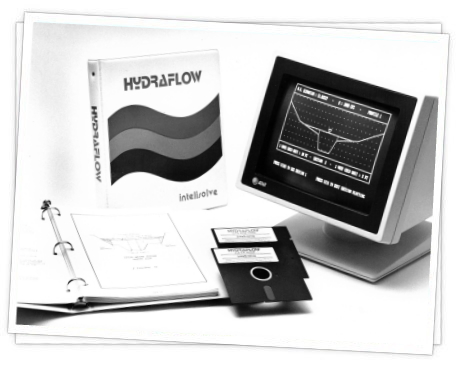 This is where it all began, circa 1985
Its principal founder and software architect, Terry Stringer, brings over 35 years of urban stormwater software development experience and is the original founder of Intelisolve and author of the popular "Hydraflow by Intelisolve" series software acquired by Autodesk.
While you may be inclined to think this is a "Hydraflow Update", Hydrology Studio Suite is completely new. It's developed on a far more sophisticated platform offering more features, superior graphics and a host of productivity advantages.
The Hydrology Studio family of products are embraced by thousands of consulting civil and environmental engineers, municipalities and educational institutions throughout the USA and across the globe including Canada, Australia,  New Zealand, Belgium, Switzerland, Brazil, Mexico, Ireland, Turkey, Egypt, South Africa, Spain, Portugal, Serbia, Malaysia, Nigeria, Ethiopia, Romania, Poland, Philippines, South Korea, the Netherlands, India and Saudi Arabia.
We believe most stormwater design software is too complex and overpriced. Too many features, too many buttons, too much to learn, too inefficient. Our products do less than the competition — intentionally. We build products that work faster, smarter, feel better, allow you to do things your way, and are easier to use.
Hydrology Studio's software keeps the complicated world of hydraulics and hydrology simple.