The smarter, faster, easier way to model stormwater
Design Detention Ponds the Smart Way
From complex watershed modeling to pre- and post-development drainage studies with detention ponds, Hydrology Studio makes stormwater design a breeze. This is our flagship software that's simple to use and free to download.
Model Watersheds and Design Detention Ponds
Model multiple systems, including pre/post development conditions in a single project. No need to create separate project files. Model up to 100 hydrograph nodes, with up to 8 return periods... simultaneously. All standard, out-of-the-box features, matched to a simple user interface and awesome reporting.
Industry Standard, Time-Tested Methodologies
Design and analyze using well-known methodologies that comply with industry standards and local regulations. NRCS, Rational and Modified Rational methods are built-in along with an extensive library of NRCS and NOAA design storms and rainfall. Easily customize to match your local standards and regulations.
Use Improved Design Procedures
We include many cutting-edge design procedures and wizard-like processes that get you from point A to B in the fewest steps. We work hard to eliminate guesswork with graphically rich, real-time interactions that keep you pointed in the right direction.
Easily Customize to Match Your Local Rainfall
Hydrology Studio contains ready-to-use design storms including NRCS Types I, IA, II, Fla Mod, III, Std 6-hr, NRCS MSE, NOAA, NRCC, CA, Huff-75, Indiana Huff and IDF-based balanced or nested. Imports rainfall directly from NOAA Atlas 14 and RainMaps.
Rainfall Wizard Imports Directly From NOAA Atlas 14
You can create IDF curves and customize the rainfall for your SCS/NRCS design storms in just three simple steps.
Choose Your Location on the NOAA Map
Move a cross-hair to your exact site location. A button-click is all it takes to download the rainfall data used to develop IDF curves and serve all SCS or NRCS design storms.
Import the Data Directly Into Hydrology Studio
Import rainfall from NOAA or download direct from Hydrology Studio's RainMaps. Optionally add your own correction factors, Cf, to account for saturation.
Use a Library of Built-in Dimensionless Design Storms
Select from one of 80 built-in design storm distributions. Plus, there's no need to fuss with external files. Storms are hard-coded or created on demand.
Design Your Next Detention Pond in 15 Minutes
Hydrology Studio employs a wizard that gets you from post-development back to pre in 3 easy steps. It estimates storage, eliminating guesswork. A graphically oriented, real-time routing tool dramatically speeds up design time. Satisfies peak Q and volumetric detention criteria.
Step 1. Estimate Required Storage
Hydrology Studio will quickly estimate required storage volumes so you can build your detention pond to the correct size the first time around. No guesswork!
Step 2. Create Your Detention Pond
Build your new detention pond to the correct size. Enter or import contour areas from your CAD software, select trapezoid shaped, manufactured underground chambers or manual entry.
Step 3. Add Pond Outlet Structures
Hydrology Studio has developed an incredible breakthrough in detention pond outlet structures. It develops a Target Stage-Discharge for each return period and overlays it on a Schematic drawing for you to use as a guide when adding outlet devices. It's fast, direct and eliminates iterations.
Your Design is Completed in Less Than 15 Minutes
Real-time interaction with a realistic schematic drawing of your detention pond's outlet structures during Step 3 is the key ingredient to your success. What's better is that your final detention pond design is nearly perfect.
Design Underground Stormwater Detention Basins
Hydrology Studio has features that allow you to design underground stormwater detention systems. Select from a built-in library of manufactured underground storage chambers or generic. 
An Easy 3-Step Process
Step 1 determines the storage required using pre and post development hydrographs and target release rates. In the final step the software provides you with a dedicated outlet structure made just for underground detention.
Create the Most Efficient UG Chamber Layouts
For Step 2 you'll select your chamber system from your preferred manufacturer and lay out the system to match your target storage. Use an interactive tool to set the number of chambers and rows. A manufacturer-specific layout is instantly drawn right before you indicating the dimensions and total storage.
Design Your Chamber Outlet Structure
The software automatically inserts a Riser structure for which you can add outlet devices such as a weir wall, orifice, exfiltration and outlet culvert. Perform trial pond routings along the way until it's done exactly the way you need it.
The More Technologically Advanced Hydrology Software
Hydrology Studio performs superior technical analysis not found in other software.
More Accurate Outlet Structure Calculations
Hydrology Studio considers the more complex interactions between outlet devices in detention ponds, such as how the headwater from a culvert creates a tailwater for secondary, upstream devices. Most other software simply applies the lesser of all device outflows, overestimating the pond's discharge resulting in an undersized detention pond.
Outstanding Graphs and Charts Keep You In The Know
Hydrology Studio's charts provide the numeric proof you need, when you need it. This stage-discharge curve tells all about a compound outlet structure and is just one example of the technical prowess of this software.
Better Pond Troubleshooting Keeps You On Track
Nothing is worse than getting errors in your pond routings and not knowing exactly what went wrong, or how to correct it. With Hydrology Studio, you're never left in the dark. Our advanced detention pond analyzer tells you what, when and where so you can quickly move forward.
Easy to Understand Reports Make You Look Good
Designed to be easily read and understood by you, reviewers and colleagues. These are the reports that will make you proud to hand out your business card. And it makes reviewers feel good about approving.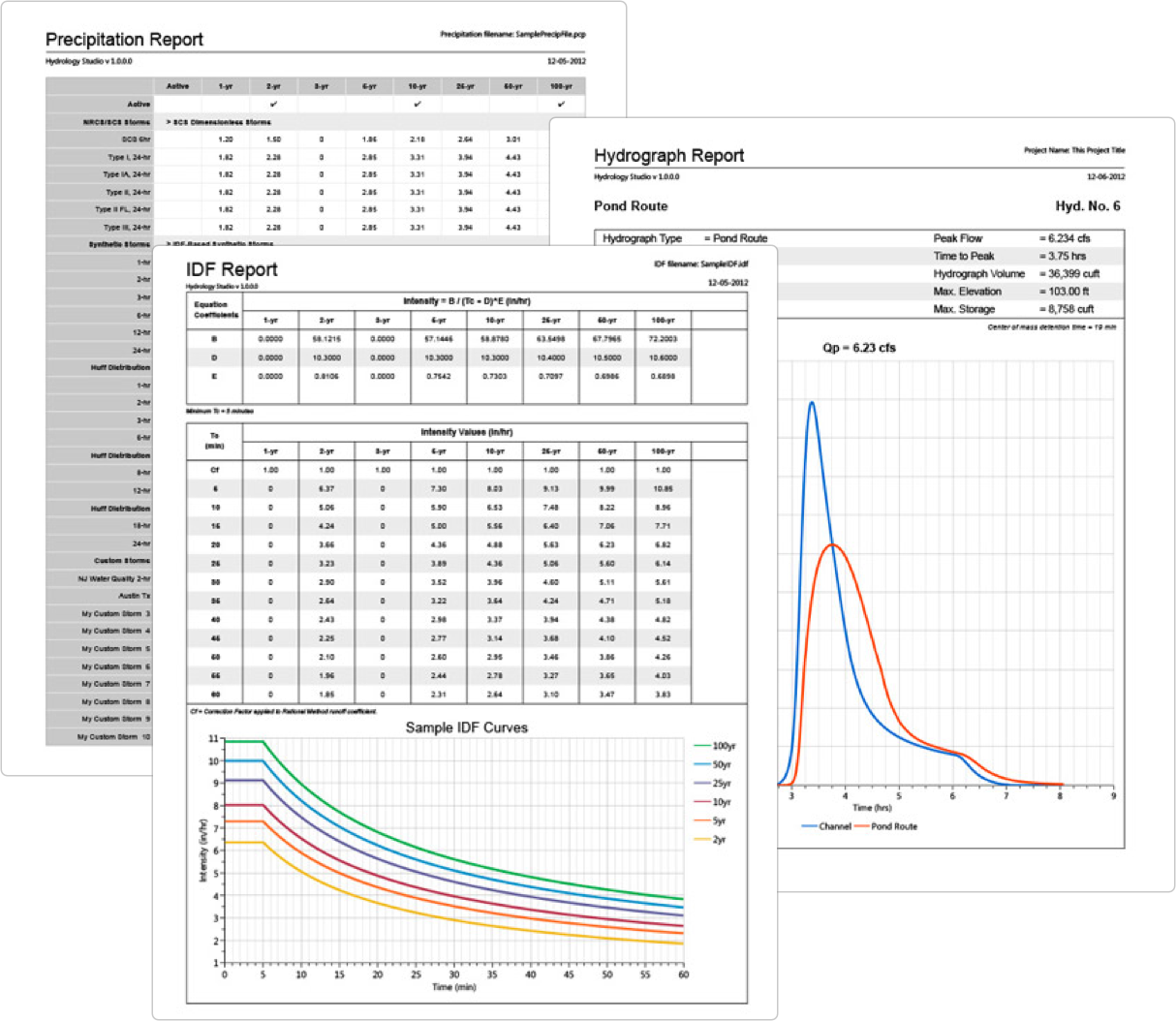 Best-in-Class Professional Looking Reports
Report types range from recaps & summaries to scalable detailed reports and worksheets. Just check the options you like on a print menu and Hydrology Studio starts printing easy-to-read reports for any or all return periods.
Add a Complete Table of Contents
Automatically generates a table of contents. User defined starting page number and prefix allows you to insert into other reports.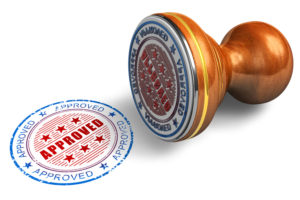 Models entire complex watersheds
Uses SCS/NRCS TR-20, Rational and Modified Rational
2,880-point hydrographs for maximum accuracy
No limits on drainage areas
Handles up to 100 hydrograph nodes, each with up to 8 return periods at once, for a total of 800 hydrographs
Each project can have up to 25 unique detention ponds
Automatic batch run operation for user-defined multiple return periods
Built-in NRCS 6 & 24-hr (including Type IIFla) design storms
Built-in B75 Huff Distributions, 3 quartiles
Built-in Indiana Huff Distributions in 4 zones, 3 quartiles
Built-in 24-hr NRCS MSE, NOAA, NRCC and CA Storm Distributions
Up to 10 unique Custom design storms can be specified
Develops synthetic, nested, design storms based on local NOAA precipitation
Develops rainfall IDF curves for any location
Built-in Lag and TR-55 method Tc calculator
Combines up to 6 hydrographs at once
Routes hydrographs through channels
Diverts hydrographs by constant Q, ratio, 1st-flush volume or any pond outlet structure
Computes outlet flows for detention ponds
Estimates storage requirements prior to designing your pond
Interactive Pond Wizard significantly speeds up outlet device sizing & design
Up to 10 user-definable outlet structures per pond including infiltration/exfiltration
Handles multi-stage outlet works
Storage values can be computed from contour areas, bottom area/side slope or underground storage with stone encasement
Weirs types include rectangular, Cipoletti, riser, broad crested and v-notch
Routes hydrographs through wet, dry or interconnected ponds
Routes hydrographs through ponds with varied tailwater elevations for each return period
Imports images as a watershed background map from png, jpg and bmp files
Imports legacy Hydraflow Hydrographs .gpw project files
Print Preview
U.S. Customary & Metric units
Much more!