This is Culvert Design Software… Modern-day
Tired of struggling with government-issued, outdated culvert design software? There's good news. Culvert Studio was built from the ground up using the latest software technology providing you with a rich user experience and rock-solid, time-tested results. It employs industry standard FHWA HDS-5 methodology so you can design and model culverts, including scour and riprap aprons, with confidence.
Use Culvert Studio to design and model single-barrel crossings or multi-barrel culverts with various shapes, inlet configurations, materials, slopes, sizes and flow regimes including supercritical flow with hydraulic jumps and overtopping flow.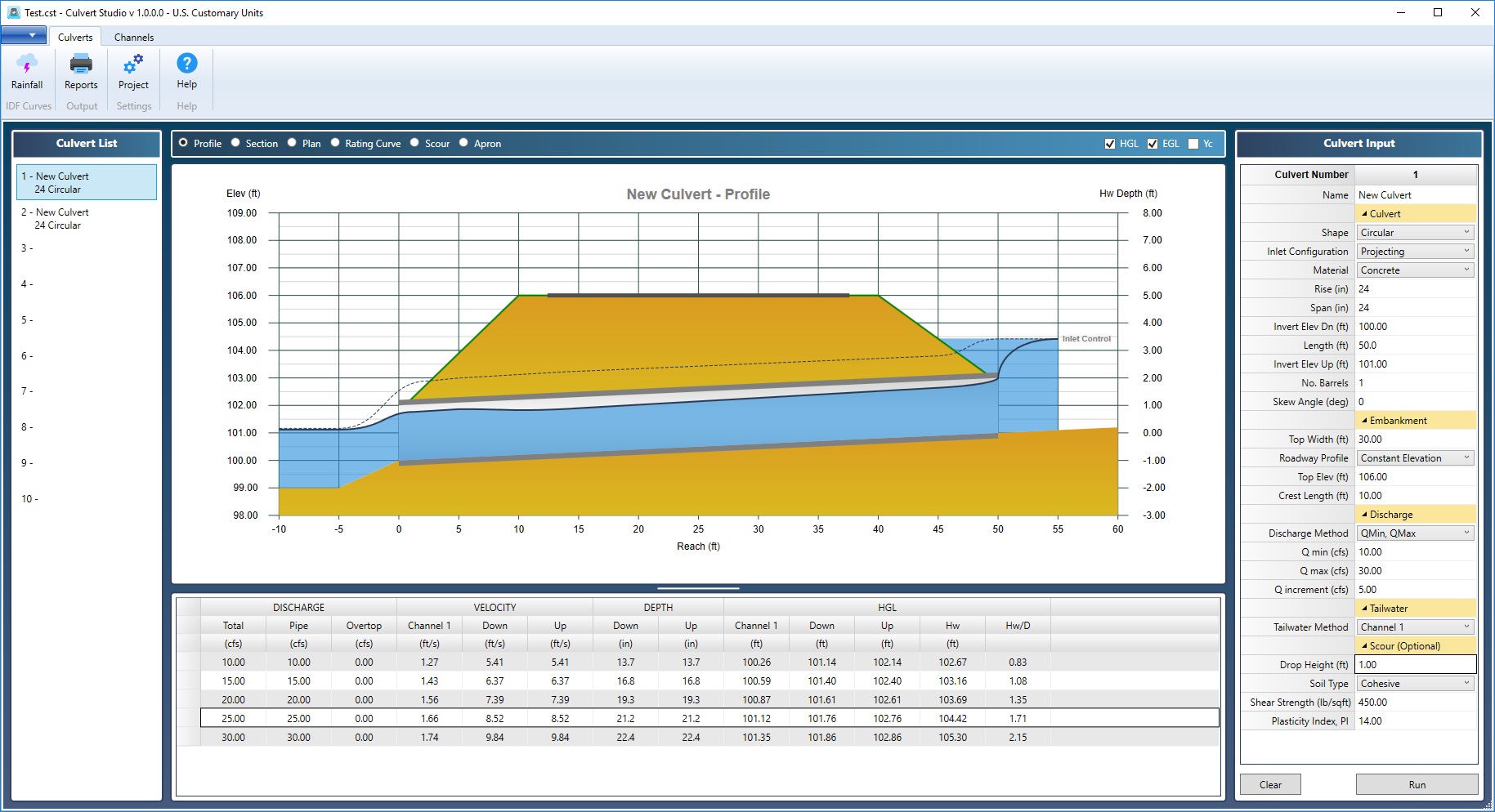 The first thing you'll notice is the graphical representation of your culvert designs. Realistic water surface profiles match the exactness of the highly technical calculations taking place behind the scenes.
Culvert modeling and design software, refreshingly simple
Culvert Studio was designed to be a culvert modeler that is as easy to use as it is beautiful to look at. Everything is right in front of you, leaving you to be more productive, and not searching for dialog boxes. Use it once and you'll be hooked. It'll be the culvert design software you'll prefer to use – and love – on every project.
What's even better – it pays for itself the first time you use it.


Advanced Features for Power Users.
And Everybody Else.
Culvert Studio offers powerful ways to get your work done as efficiently as possible. For example, you can create up to 10 unique culvert designs at once. Copy data from one and paste into another. Alternate modeling scenarios are developed with a single mouse click. Model a wide variety of barrel shapes, inlet configurations and skew angles.
Specify flow rates with a user-defined range (Qmin, Qmax), sets of known Qs or have them automatically computed by the Rational method for any or all return periods.
Tailwater options include Known Elevation, Crown, Normal Depth, Critical Depth or (dc + D)/2. You can even choose a channel section! Culvert Studio automatically creates a tailwater rating curve.

Varied Roadway Crossings
Roadway crossings can be specified with a constant crest elevation and width or you can specify a varied profile with up to 25 station, elevation points. Culvert Studio will manage the details like low flow, pressure flow and overtopping flows.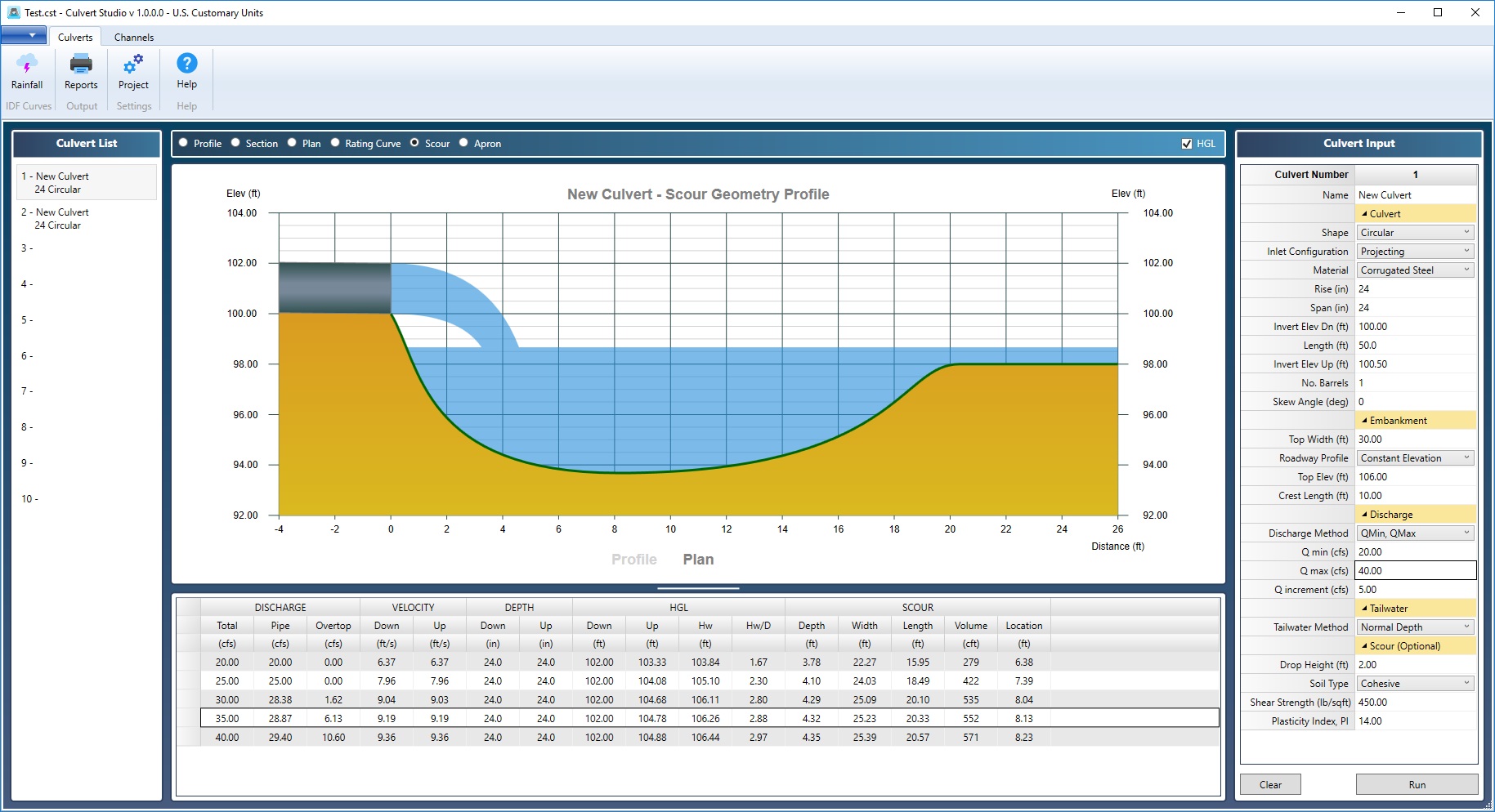 Computes Culvert Scour Geometry
With Culvert Studio you can easily predict local scour at the outlet of your culverts. Using HEC-14 methodologies, Culvert Studio determines scour geometry for cohesive and cohesionless soils with minimal inputs.
The software provides vital numerical details including total length, width, maximum depth as well as the location of the maximum depth. And, of course, our signature graphical presentations include Plan and Profile views.

Designs Culvert Riprap Aprons
Need culvert outlet protection? No problem. Culvert Studio has you covered… Literally! Using HEC-14 methods, Culvert Studio determines the required dimensions of a riprap-based apron including length, width, depth, D50 rock size and FHWA Class.
It even uses projectile motion equations to locate where the culvert outflow contacts the natural bed when there's a free-falling drop height. It extends the design length of the apron to facilitate the added reach. It also computes the final downstream velocity.
It's Automatic
There's nothing you need to do or input for a riprap apron. Culvert Studio includes it automatically providing informative numerical outputs as well as colorful Plan and Section views.

Ease of use was a first thought.  Not an afterthought.
It's no secret that you have a lot options when purchasing culvert design software. Methodologies and standards for calculation procedures have long been established. But integrating methods with a simple user interface isn't easy to come by… until now.
We worked hard at making this software easy to use. And that wasn't easy. Its intelligent user interface is immediately evident when you first begin entering data into Culvert Studio. It watches over your input progress and displays helpful, context-sensitive diagrams along the way to keep you moving, stress-free.