New Stormwater Design Software Makes
Hydraulics & Hydrology

Detention Pond Design

Watershed Modeling

Storm Sewer Design

Culvert Design

Open Channels
Easy-to-use Stormwater Design Software for Civil & Environmental Engineers
Hydrology Studio is a suite of modern-day software for stormwater design and modeling. Use it for detention pond design, storm sewer design and analysis, open channel hydraulics, culvert modeling and a lot more. A perfect choice for commercial and residential site development engineering. 
Buy as stand-alone programs or discounted bundle, the Suite.
Better H&H Software. The Happiest Customers.
Rated #1 by civil and consulting engineers alike
"I have to congratulate you on a remarkable achievement with this suite of products. I bought it today after seeing an H&H Culvert Studio report from a colleague a week ago."
David V. MsCE PE
President
"Definitely a great platform, loving it so much more than PondPack which we previously used for years."
Randy C, PE
President
"Worked this morning on Stormwater Studio... WOW...!!! Awesome, great job...very easy to model with... "
Bob S.
Senior Hydraulic Engineer
"I have used your trial version and am absolutely thrilled with the interface, adaptability and comprehensiveness of the software."
Self-employed
Civil Engineer
"I am super impressed with your service and management! Thank you."
Dave H. PE, CFM
Senior Engineer
"I love this software and use it almost daily. It's value is the simplicity."
Patrick R. PE
Senior Project Engineer
"This program is excellent - Even as a beginner it is saving me valuable time."
Andrew P.
New Zealand
"I just wanted to say thanks for the recent round of changes to Hydrology Studio. You really have a great product here and it just keeps on getting better."
Patrick M. PE
Consulting Civil Engineer
"I appreciate how you have taken care of us since our purchase."
Ron F. PE, CFM
Project Manager
"Very nice software you have developed. It's got a simple and clean feel to it. I will almost certainly be purchasing a subscription."
Mack F. PE, PLS
Consulting Civil Engineer
"Been plodding along with HydroCAD for ~15 years or so and we needed something better. I will spread the message on how well you support a brand new customer like me."
Frank G. Hill, PE, CFM
Principal
"I want to compliment you on your interface design, your software definitely has the most intuitive interface that I have seen for this category of software… you nailed it."
M.B.
Consulting Engineer
"I would like to compliment you on your software, very easy to use, excellent help service, and really appreciate the added rainfall data map."
H D Roye
Professional Engineer
Introducing the Hydrology Studio Suite
All the stormwater design & modeling software you'll ever need. The Hydrology Studio Suite is a collection of five superb drainage design programs at one low price. Dramatically improve productivity, streamline and standardize your stormwater design processes, while adding a consistent professional look throughout your firm. This is our most popular offering.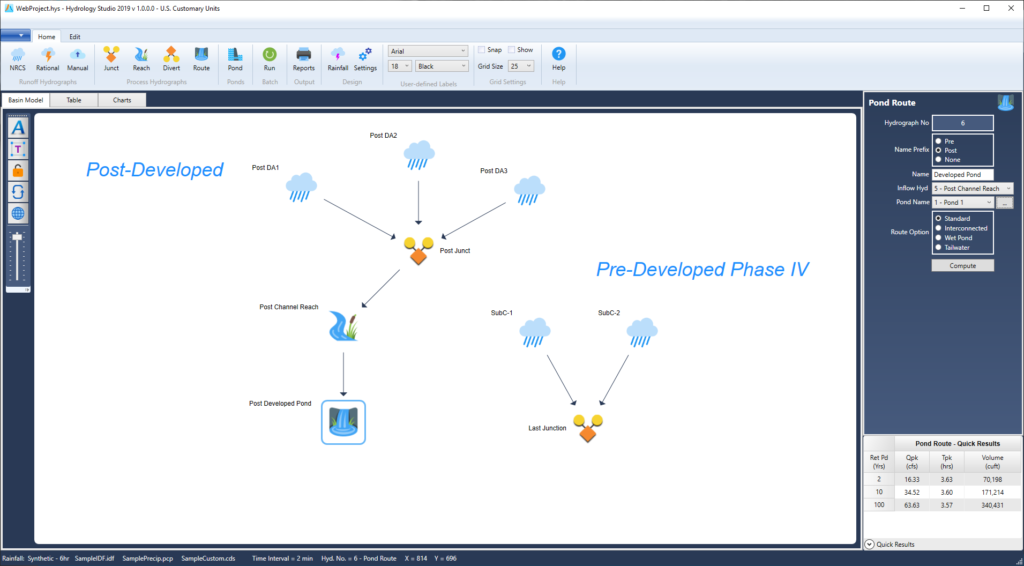 Detention Pond Design Software You'll Enjoy Using
Hydrology Studio uses an interactive basin model diagram that lets you easily point and click your way through pre- and post-development site designs and complex watersheds.
Provides complete TR20, TR55 runoff compatibility, Rational and Modified Rational methods.
Create runoff hydrographs, combine, route and divert hydrographs. Interactive detention pond design. Best-in-class reports.
Storm Sewer Design Software, Simplified
Design, model or analyze complete storm sewer systems with a variety of HEC22 inlets and catch basins in less time. Design using energy-based HGL/EGL calculations. Get rewarded with graphic-rich surface and profile plots, outstanding graphics and reporting. Agency-friendly. User friendly.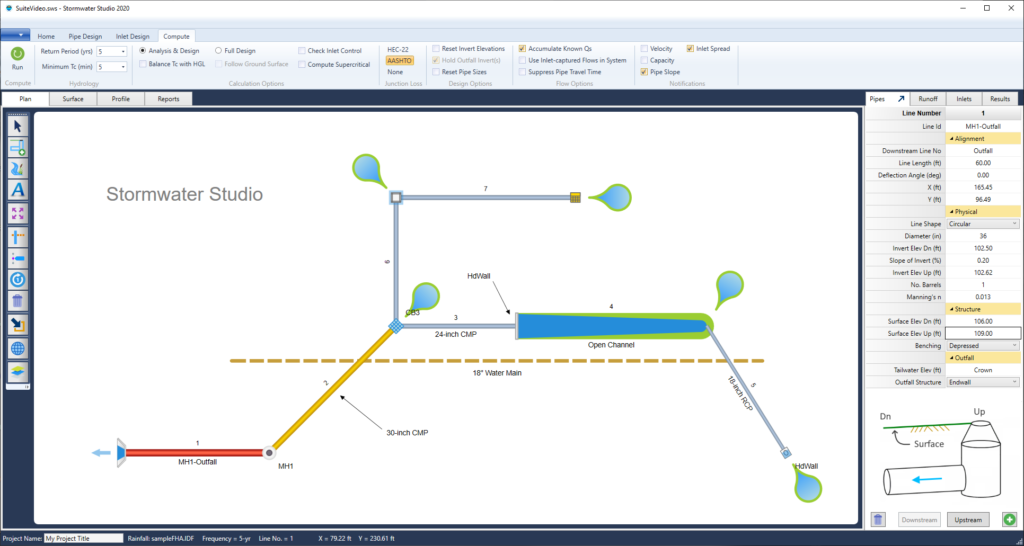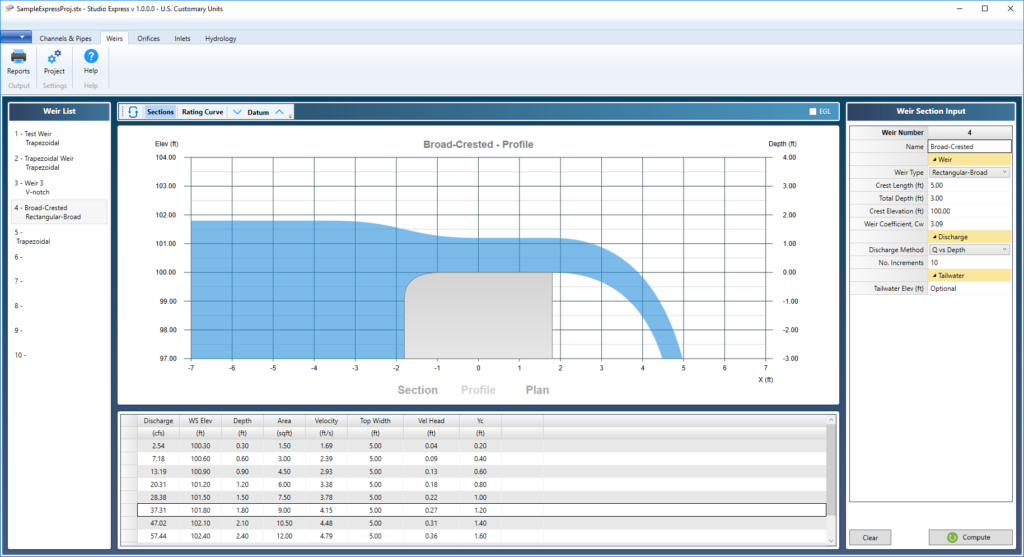 Must-have Hydraulics and Hydrology Software
When you need answers fast, this is your go-to hydraulics and hydrology software. Model open channels, pipes, weirs, orifices and inlets…on the fly! Create runoff hydrographs and estimate required storages for detention ponds. Includes retention pond recovery analysis!
Modern-day Culvert Modeling Software
Replace your outdated culvert design software with something new and far better. Culvert Studio offers a rich user experience with rock-solid, time-tested methodologies.
Model single-barrel crossings, multi-barrel culverts with a variety of shapes, sizes, slopes, inlet configurations and materials. Handles any flow regime with overtopping flow.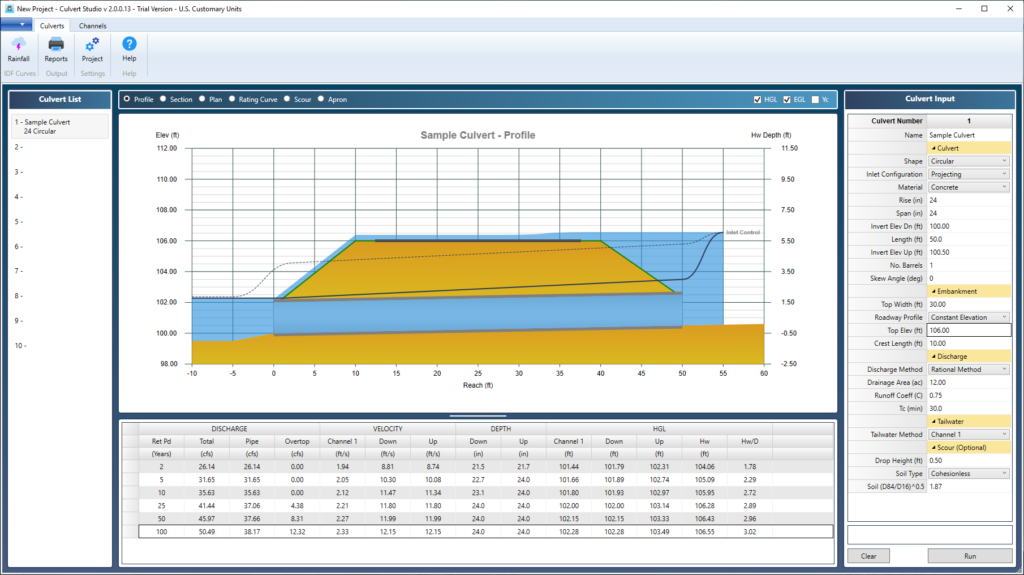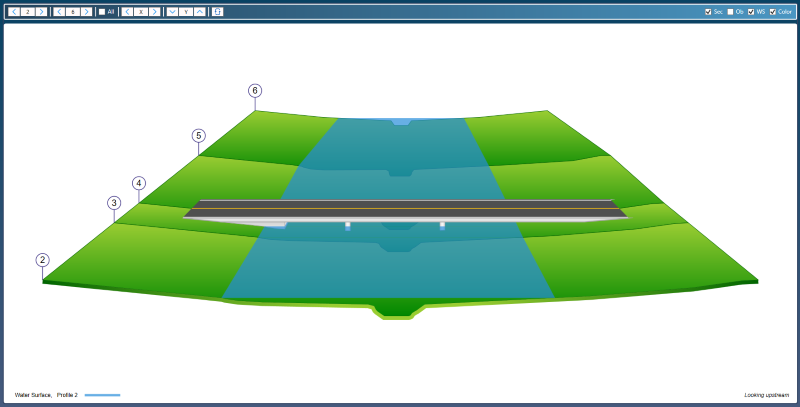 Your Day-to-Day Open Channel Modeling Software
Channel Studio is software is an easy-to-use tool for performing hydraulic analysis on open channel systems.
Compute water surface profiles in any flow regime for any open channel including bridge structures, culvert crossings and inline weirs. Also performs bridge scour.
Why Use Hydrology Studio?
Who Uses Hydrology Studio?